Sant Attar Singh Ji, the most widely known and respected Sant in modern times, was born at Cheema, a village in the erstwhile Jind State (now in Sangrur district of Punjab, India) on 28 March 1866.

His advocacy of education for the girl-child, and blending education with spirituality show his sense of foresightedness. Even a century back, he knew that mere scientific education would only lead to destruction, and education of the girl-child would result in the whole family getting educated.

Towards that end, he first set up a school for girls in 1906. He did that even before establishing a school for boys and Akal Degree College at Mastuana, Punjab. Eventually he established a chain of schools and colleges. He also took part in several educational conferences motivating others to establish many more schools and colleges.

Such was his goodwill and popularity as a messenger of Universal Brotherhood and Oneness, he was personally invited by Pandit Madan Mohan Malviya to lay the foundation stone of the Banaras Hindu University on 24 December 1914.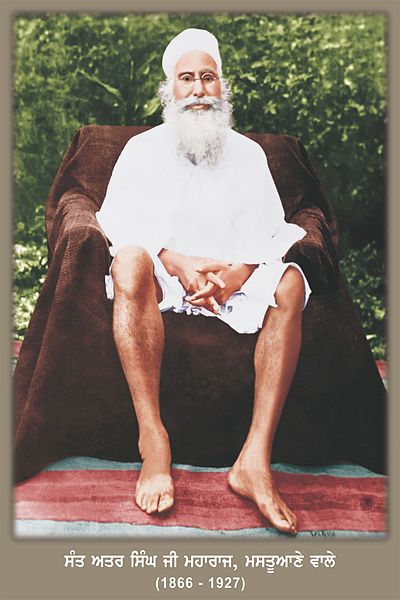 Niranjan Singh Mehta, who came to be known as Sant Teja Singh Ji later, was born to Bhai Ralla Singh and Ram Kaur at Balowali village (in Pakistan) on 14 May 1877.

Bhai Ralla Singh was a medical doctor working in Central Jail, Lahore. Sant Teja Singh Ji passed his postgraduate studies with distinction and followed it up with a degree in law.

He then went to Harvard University in the United States for further studies. At the centre of his world was an abiding respect for his mentor a belief that education has to holistically blend science with spirituality in order to make the world a better place to live in.

Sant Teja Singh Ji established the Kalgidhar Trust, Baru Sahib in 1963 to spread the message of universal brotherhood.

"We believe it is possible to impart quality education to the students of rural areas. We wish to see their minds informed, disciplined, strengthened – in fact, trained in somewhat the same way as per the teachings of Sri Guru Nanak Dev Ji Maharaj"
– Sant Teja Singh Ji